Have you ever considered using a Promotional Product? Are you unsure of what exactly Promotional Products are used for and why?
In a nutshell, Promotional Products are used to increase your Brand Awareness to the general public. Keeping your Brand in their Hand is the single most important thing you can do as a business owner. An existing customer, or a potential customer with a constant reminder of your company logo or message is more likely to reach out to you the next time they need your product or service.
5 Reasons why Promotional Products rule!
1. CHOICE: With over 3 million different items to choose from, finding an item that is specific to your industry, or something new and popular to imprint your brand on is easy.
2. COST EFFECTIVENESS: The cost and duration of advertising should always be on your mind. A company that does not advertise is loosing out on profits. Take for example an ad in the daily newspaper. A ¼ page black & white ad could cost you about $200 for a small local paper, and up to $20,000 for a national paper. It lasts for one day. So ask yourself, how many people interested in your product or service will see that ad in its lifespan? Now consider a coffee mug. A regular style mug varies in price. There are always factory sales and clearances going on. For the sake of this article, I will use a price of $2.89. A coffee mug is considered a "big winner" for a few reasons. It will either end up on that persons desk in an office setting, or it will end up in their kitchen at home. These are the two most sought after pieces of real estate for a promotional product. On average, (according to ASI, the Advertising Specialty Institute) in the United States a Promotional Mug is used 6.3 times per month and is kept on average for 5 years! Now THAT is some awesome ROI (Return on investment).
3. PERCEPTION: You are at a local community fundraising event. Your company (Larry's Plumbing) has a booth and is being represented to the general public. Joe Schmo beside you is handing out business cards to NO ONE. Because NO ONE is stopping by his boring display. YOU are welcoming in attendees to your booth, engaging them in conversation, handing out industry related stress relievers shaped like a toilet bowl, with your logo on them. (approx. price $1.40-$1.50 ea) Winning!!!! Now, who had a better day?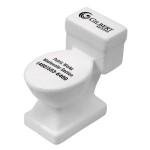 4. CREATIVITY: What sets you apart from your competitor? You're a plumber, he's a plumber. You unclog toilets, he unclogs toilets. You have a 24hr hotline, he has a 24hr hotline…. What sets you apart is how you will keep YOUR company first and foremost in the minds of consumers. How do you do that? Creativity. Catchy custom company shirts that are memorable for your staff. Custom memorable business cards that will not only get noticed, but kept for future use. Custom memorable invoices to leave with your customer. A custom memorable gift to leave at the jobsite, and a referral discount coupon for them to either keep or to pass on to a friend, colleague or neighbor. The important thing to remember here is not only creativity, it is consistency. Promotional Products BUILD YOUR BRAND.
5. APPRECIATION: According to a study done by ASI, 84% of consumers remembered an advertiser based on a product they received. AND 42% had a more favorable impression of an advertiser after receiving a promotional product. AND…. Wait for it….. 62% have actually done business with a company after receiving a promotional product. It's simple. People love and appreciate a freebie. Especially if it is a fun, or exciting, or useful freebie. How many T-shirts, Caps, Pens and Mugs do you own with someone's brand imprinted on them?
For factory closeouts and supplier sales always check here first