One of my biggest sales sectors is the Real Estate Industry. Promotional Products play a HUGE role with Realtors, both independent and franchise alike.
With so may Realtors and Brokers out there to choose from, it is becoming more and more difficult for them to keep up with the constant demands of marketing. It is as if they are in a perpetual state of self promotion, like it or not. And I don't just mean those post cards that show up weekly in your mailbox. I'm talking client gifts, and office swag.
A QUESTION TO HOME OWNERS:
Did you buy or sell a home recently? Did your realtor give you a gift? If they did, was it a quality gift? Was it thoughtful and useful? Will that gift you received (or did NOT receive) factor into your decision to seek that agent out again to use their services on your next transaction? Will you be more or less likely to refer them to a friend or family member? These are all very serious questions, and they are what I base my ideas on when consulting with a Realtor who is looking for Promotional Products.
SOME ADVICE TO REALTORS:
Keeping your name out there is a constant battle. Forget about a day off, a holiday, or even sitting down to a hot meal with your family most days! As a Realtor you are only as good as your next listing. There are various areas where Promotional Products play an important role in the Real Estate industry, and can help you greatly by keeping "Your BRAND in their HAND".
OFFICE SWAG – Continuity is key. And originality helps! From custom made presentation folders, letterhead, envelopes, business cards, brochures, pens, and coffee mugs, boring does not need to be snoring. Keep your colors, your logo, and your message consistent and build that brand recognition. There are so many variations of the "usual" Promotional staple, that you would be surprised at how unique you can get these items. In other words a pen does not have to be just a pen… a mug does not have to be just a mug. They can be a conversation piece!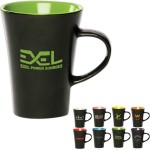 THE LISTING GIFT – When you are out for an appointment at a home that could very well be your next listing, leave a gift. It shows the home owner that not only are you there to tour their home, and give them your presentation, but you are personalizing the experience by leaving them something thoughtful. PLUS, it is always harder to say no to someone bearing gifts when making their big decision! On a side note, if the potential listing is a family with small children, an imprinted "our new home" or "moving day" coloring book and 3 pack of imprinted crayons will make you a hit not only with the shortys, but with mom and dad, you've come prepared for anything! This insulated can cooler/lunch bag is a great idea.

THE CLOSING GIFT – Closing day can bring up many many emotions. Joy, sadness, excitement, fear (memories from my very first home purchase… aacck!!). You've got their back. They are counting on you for what is one of, if not THE largest purchase they will ever make. Give them a small token of appreciation to let them know you are steering the ship for them, and that you can be trusted to make everything go off without a hitch. This quality ball point pen and keychain light is a great idea. Attach their new home key!

THE HOUSE HUNTING GIFT – On the road again… just can't wait to get on the road again…. (sing it Willie) this is pretty much the Realtor them song. For the client however, it's a different story. Whether an in-town client or an out of town client, a small, well thought out gift will be very much appreciated. Especially if you have a marathon day of homes set up on the schedule! This notebook and pen combo is a great way to jot down notes while touring homes.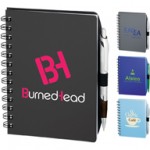 THE WELCOME HOME GIFT – This is a very important choice. So don't just show up with a bottle of wine. My agent did and we don't even drink! (We laugh about that now) Your gift has to say class, thoughtfulness, functionality, useability, and it has to say thank you (please go forth and refer me to all your friends, family and neighbors…) It should be something that is branded with YOUR COMPANY NAME. This knife block will take up coveted kitchen counter real estate. Your client will be reminded of you everyday,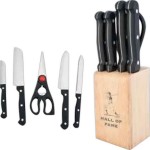 THE BACK UP SWAG – Keeping a box or bag of imprinted swag on hand at the office or in your car is always a great idea. You'll never know who you will run in to, what situation you'll find yourself in. Maybe you'll be at the monthly Chamber of Commerce Luncheon and the sponsor has forgotten to bring their giveaways… maybe you are at a community event and run into an opportunity to showcase your company in front of local crowd, or maybe you are at the school PTA meeting and you'd just like to give the ladies a little something to remember you by. Whatever the reason, it is ALWAYS good to have a quantity of inexpensive (NOT CHEAP) imprinted promotional items on hand and like pens, magnets, can coolers, and key tags.
THE OPEN HOUSE SWAG – It's always a good idea to have a basket of swag at your open houses. Many folks out on a Sunday going from home to home actually DO NOT have a Realtor. Having a little something there for them as a take-away (besides your business card) is a great way to keep a potential client thinking of you.
_____________________________________________________________________
Below is the PERFECT Promotional Product for Realtors. It is brand spanking new, so I can guarantee you wont see it anywhere! Its called the "House Kit". Not only is it genius for The Real Estate Industry, but think Construction Industry, Home Inspection Industry, Residential Cleaning Industry, Moving Companies,,,,,, any industry that the home is the focus of their business.
The Product measures approximately 8 x 6.5 x 1.5 and includes a best pizza cutter you'll even own, an adjustable measuring spoon, a fridge magnet shaped like a house, and a durable slot screw driver, and a spot on the inside back for your own business card to be inserted facing out. Each Item will have your company name and/or logo imprinted on it in one color, AND the front panel insert will be printed in full COLOR with your company name and message.
I am offering all new Realtor clients a first time order discount of $25 with the Promo Code REAL25. Offer ends April 1 2015. The factory set up fee is WAIVED on any repeat order within two years!
[imageeffect image="7249″ titleoverlay="" lightbox="yes" target="_self"]